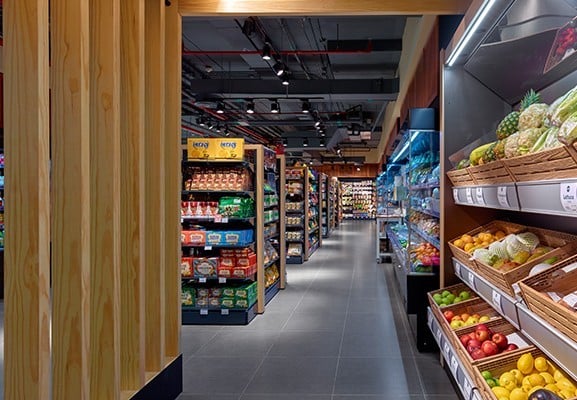 1004 Gourmet UAE Asian Marketplace
UAE Asian marketplace
Online Mall & Shop in Dubai UAE Asian marketplace Delivery everywhere within UAE! Who we are / our story / the products At 1004 Gourmet,
we have our own in-house procurement team that handles the complete logistics operation of over 3,000 SKUs from order to delivery.
1004 Gourmet Online UAE Asian marketplace
WHO WE ARE
1004 Gourmet is your local Asian marketplace where you can find all the products to cook Asian dishes in your kitchen and enjoy the best items from Asia in your home. We have branches in The Onyx Tower 1 Internet City as well as an online website for our retail customers.
In addition, we supply many hotels & restaurants as well as local supermarkets such as Carrefour and Choithrams and exports our products to other countries in the region.
For wholesale inquiries, click here.
OUR STORY
In July 2008, 1004 Gourmet founder Dong Chul Shin and Juno Kim decided to open a small grocery shop in The Onyx Tower 1 dedicated to Korean food. Since then, 1004 Gourmet has organically evolved to become the focal point of not just Korean but East Asian products, also imported from Japan, Thailand, Taiwan, and China.
Through our selection of products, our vision is to introduce the food and positive cultures from the Far East to the community in the UAE and the Middle East.
THE PRODUCT
We believe that our future depends on the source. We are always in search of new products and work closely with our partners to bring you the best choice from East Asia. In pursuit of fresh ingredients, we import fruits and vegetables by air twice a week so that you can enjoy the same produce the local would be eating in Japan and Korea during that season.
In addition to food, we have branched out to bring high-quality non-food products such as Japanese knives, crockery, wet tissues, and baby products.
1004's History
2008
Est. July 5th 2018 3,000 SF Retail 3,000 SF Warehouse
2009
Est. new sales channel with focus on japanese restaurants and hotels -Keyclients: Nobu,Burj Al Arab, Atlantis Hotel, Burj Khalifa
2010
Additional 3,000 SF Warehouse Soft Launch of my1004mart.com
2011
Shop Re Designed Started fresh produce supply from Korea (Twice a week)
2012
July 2012 Completion of DIP Warehouse -6,000 > 16,000 SF -2,500 SF Cold Store
2013
Official launch of my1004mart.com ( Korean website) HACCP program started
2014
Completion of HACCP Started imporing fresh products from Tsukji, Japan (Twice a week)
2016
Established FMCG Distribution div. Launch English Webiste
2016
Open major FMCG Accounts Impiement complete ERP Solution
2017
Warehouse Expansion to 32,000 SF Start supplying to carrfour
2018
Q4 Open 8×100 SF Askain Market Launch 1004gourmet.com
Meet Our Teams
We're off to a great start, a fast-growing company in the market that never stop to become a better organization for everyone we serve.
We are people that live out the mission, vision and core values of the company towards everyone.

1004 Gourmet The Greens
Retail Store

Lamise Beauty
Retail Store


Kaffe Bloom
Specialty Coffee Shop

1004 Wholesales
WholeSale

Delivery Team
Retail Wholesale Delivery